Posted On 2010-05-28 at 9:07 PM by Tharaka Devinda
After all the Dansal yesterday, as I promised, the eating continued! :D We went to the Ice Cream Dansala and then afterwards, had a walk in the housing scheme area.

The long line to the Dansala
Then we decided to walk to the Sumanarama Temple where a Pandol was being shown. But we decided that going by car would be easier. So we hopped in and drove to the place.
This is the Pandol. It shows the sixteen dreams of King Kosol; who dreamt of the forthcomings of his land and acted accordingly after consulting the Buddha!
There was another Dansala there, which we had coffee :D
Here's a small video
Posted On 2010-05-27 at 9:09 PM by Tharaka Devinda
ඔන්න වෙසක් දවස ආවා! 2599 වෙනි බුද්ධ ජයන්තිය!
පුරුදු විදියට පන්සල් ගිහින් දන්සැල් වන්දනාව පටන් ගත්තා.
ඇත්තම කිව්වොත් ඉතිං වැඳලා, බෝධි පූජාවෙ බාගයක් ඉවර වෙනකොට මගේ එකතැන ඉන්න බැරි අමාරුව උපරිමේට ආවා! එළියේ මම ඉන්නං කියල මං එනකොට හසිතයයි මාධවීයි එතන! උන් දෙන්නා නදීරා ටත් කථා කර ගත්තෙ නැද්ද! ඉතිං කට්ටියම ඇවිදලා ඇවිදලා ආවා වතුර ටැංකිය ගාව බත් දන්සැලට. ඊට කලින් පන්සල ගාව තිබ්බ මඤ්ඤොක්කා දන්සැලෙන් හොඳට සප්පායං වෙලා කට්ටියම හිටියෙ!
පෝලිමේ ඉඳල කන්න ගත්ත! පේනවනෙ ගිලින හැටි!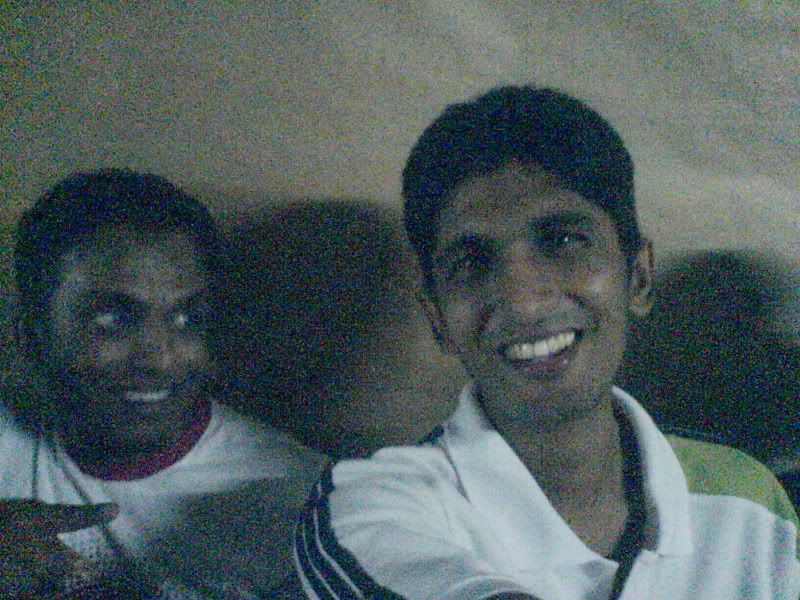 මේ හසිතය විසප්පු ගෙඩි කිය කියා හොඳට අඹරනවා!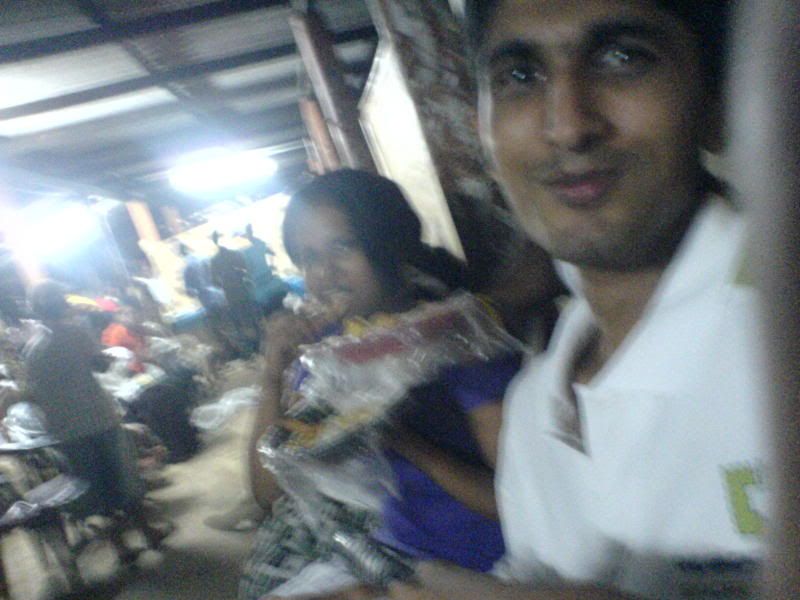 පේනවනෙ උගේ නොනත් ඌට දෙවනි නෑ. කිව්වට මොකෝ නදීරයි මායිත් කෑවා . හැබැයි අවුලකට තිබ්බෙ දන්සැලේ කස්ටිය බත් කන්න එළවලු දුන්නෙ අම්බානෙක අඩුවෙන්. බත් ටිකෙන් කොටසක් අහක ගියා ඒ වැඩේ නිසා.
ඊට පස්සෙ ගෙදර ආවා හෙට අයිස් ක්‍රීම් කන්න දන්සැලට එනවා කියලා!! මෙහෙමත් කෑමක් නේද?
මේ අපේ ගෙදර කූඩු! කීර්ති බාප්පාගේ සැකිලි ටික අපි දෙන්නගෙ ඇලවිල්ල හා තාත්තගෙ ආලෝකකරණය!
Posted On 2010-05-20 at 10:14 AM by Tharaka Devinda
Its common practice for people who have cars to use it on rainy days. Even when you don't use it in regular days, in a rainy day its used. But these days, I ended up doing the exact opposite!
I think there are others out there thats doing the exact same thing as I am. Whenever it rains these days, it pours like hell! Which floods most of the roads and my tiny car can't handle that kind of water.
So after a certain threshold of rain, its the bus for me!
Posted On 2010-05-02 at 10:06 PM by Tharaka Devinda
Here is a message I just got from a Chinese seller on ebay. These guys should find some free software to check what the heck they're sending to their consumers…!!
Dear buyer: Are you got the goods? If you already got please give us a feedback. If the good dont arrived.Maybe your item delay arrive your address. don't worry it. it will arrive in 12-30 days in USA,UK,CA,AU country, other country need 15-35 days. We will refund the full money to you if you still have not got the item exceed 35 days. you can get the delivery time on our system. http://delivery.gamesalor.com.cn Best Regards
"maybe your item delay arrive your address. Don't worry it"? Of course I'm not going to worry the item.! How can I make a cable worried? I'm worried about the damn thing not coming to my postbox!