Posted On 2010-02-18 at 11:43 AM by Tharaka Devinda
No its not a problem with my IP settings.
We had to remove the old gate in our place at Pubudu Mawatha and install a new gate. The problem with it is that we don't still live at that house. Its still under construction and we seldom go there these days. The welder needs about 3 days to complete the gate. As we're planning to use some of the old Amana sheets from the old gate, the welder has to remove the gate.
The result? No gate!
Thats bad. For once all the stray dogs will be in the garden and another reason is security. Since the house is still under construction there are some valuable stuff laying here and there. So I needed to make some cover for the gate. At least it should be a logical gate if not for the strength! So here goes.
I took some 3 inch concrete nails and the hammer and some other stuff there and started hammering. With the help of some leftover wire, I was able to secure the aluminum sheets.
Here's what is looks like;
Sure, both of the sheets are suspended with wire. I had to do that because its damn hard to nail the concrete columns. It would withstand a decent wind. And here is the gate I made to get out.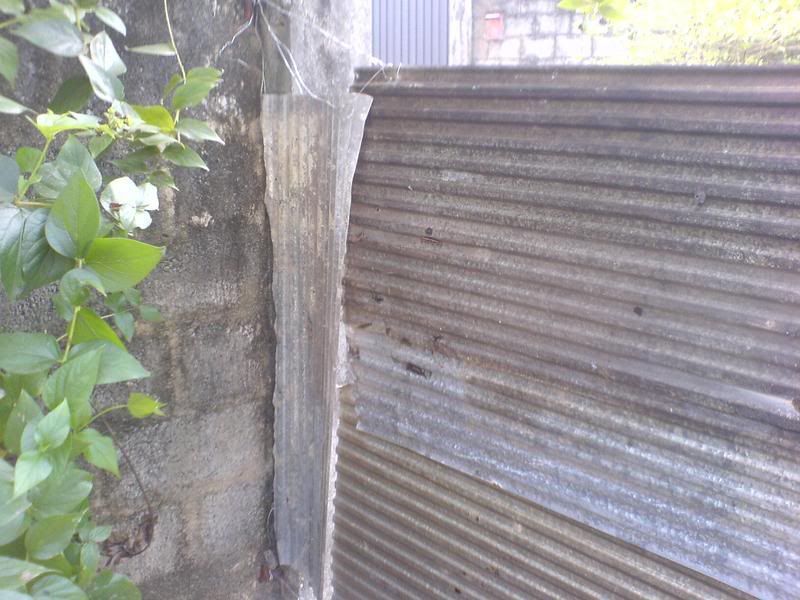 I almost got stuck trying to do that. But It would be for just that once. It would be taken down on Sunday when the "real" gate arrives!
Posted On 2010-02-17 at 9:49 AM by Tharaka Devinda
This is the only screenie I was able to extract from ChromeOS. I cant delete this file as well as take new screenshots. I dont know whats wrong!


Posted On 2010-02-15 at 10:00 PM by Tharaka Devinda
Here comes the OS season again! This time, the Google Chrome is here. I won't be commenting on this until I get a decent installation running. I'm running it right now on the USB stick and its darn slow. Not to mention the stupid resolution as well. It gives me about 800x600 but even the tooltips on ch

Thats all I was able to finish in Chrome.! Back in Windows! Chrome got stuck while I was writing the post!

There was no mouse on the login screen, and if you want to go past the screen, I suggest you have your router on DHCP and login with your Gmail username and password. That default username "facepunch" did not work for me. Every time I pressed TAB after entering the username, it appended "@gmail.com" to the end.

The UI was buggy because it ran on a USB stick! I'll try to eliminate OS-X on my secondary drive and run the OS from there. And I frekin' don't know how to take screenshots. (Too lazy to use the phone). I'll post some later
Posted On 2010-02-11 at 8:56 PM by Tharaka Devinda
Its been a while folks, but I'm still alive and kickin'! and I know you already saw the wedding photos :) Its the first official post as a married man. (Married MAN that sucks, aren't there married boys? Guess we're getting old in one way or another)
Okay, now for the fun stuff....
Google launched its new service Buzz today. (at least it came to my inbox today) Buzz aims at one thing! Social Networking. Google is late to touch this area in the internet but its better late than never. Anyway, my first Buzz post "Lets kick Facebook ass" now feels like an empty statement. Google has a long way to go to get to something like Facebook in it's area of expertise.
The first thing to complain about Buzz is the privacy settings! Its public by default and a lot of people see the buzz posts others do. Privacy was a problem with another service Google launched couple of years ago, which was Street View. A lot of people complained about it.
Another thing is that it might be overly complicated with who follows who! I mean, there are about 30 something people "following" me and I follow some others; including a few from the list who follows me. Which means we're going in circles???? Anyway, its too complicated compared with the linked Friends list of Facebook.
And last, but not least, the usability. There's Hi5, there's Live Spaces, WAYN, and an array of social networking gadgets we don't use as much as Facebook and most of them are on the decline.! Why do we need something thats between Twitter and Facebook? Here too, Google has a similar product. Wave.
Wave was launched with much amazement as Buzz and how many things do you do with Wave?
Wave is a good tool to mach up with things like Cisco's Web-Ex and DimDim. Yet, both those tools are not used well in the market to a great extent.
So will Buzz become just another backdoor to your day-to-day hacker for the people who dont know how to use it, will it become a nuisance in the Labels list, or will it rock? Time will tell. The best thing is to wait and see. The browser war ended, and now starts the Google domination, where will you be?