Posted On 2009-08-03 at 10:00 PM by Tharaka Devinda
I had my birthday on the 2nd (Sunday) and there was a small party-like get together at home. So I bought a cake and there were a few people.
Had some pretty good time.
Thats the cake!! was pretty sweet… we were all dizzy after eating all that chocolate. Nadeera and I had to eat more chocolate in the morning when I gave the treat to Damitha and Lakshitha!!!
Thats my Father.!!
and my Mother!
This is 'you know who!' no no! its not Voldemort! (See the size does not match with him) thats Nadeera!!!
And Madhavi…:P she had some huge piece of cake snapped off my hand!! Almost lost my fingers!
That's my family and Lahiru's
Again, my family and Nadeera's
and finally, the Incredibles!!! :D From the left: The Nutty, the Geeky and the Fatty! :D
So Today when I went to office, my friends there also did some decor at my place and gave me a present too. Actually the decor is balloons and lot of scraps of paper on my desk!!! I had to spend about half an hour to make the place livable again :D
They named me as T-Haraka and posted these in the entrance and over my head.
And look at the mess they made!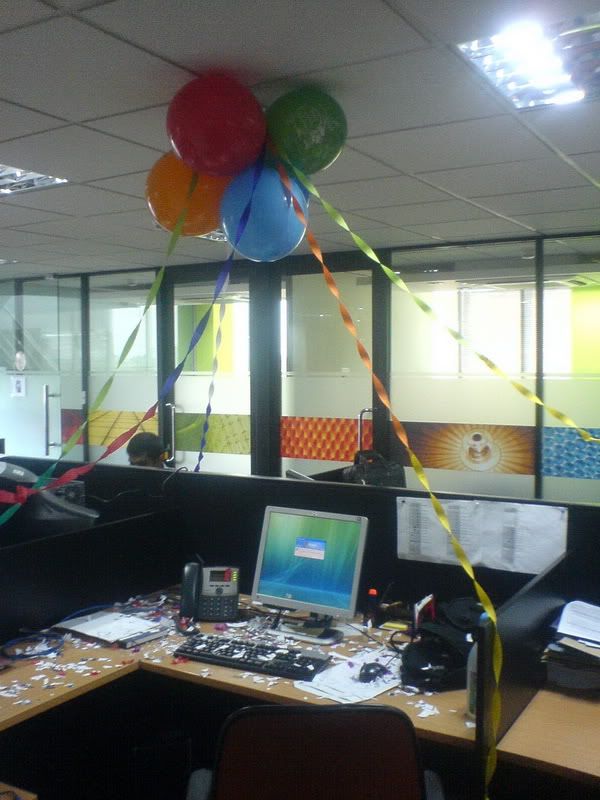 Anyway, Thanks for all those people who sent their wishes and presents!!! I had a great time!
Adding to that, the fans I ordered from ebay was home! I had to spend some time to get it installed onto the casing! and hey, look at my pimped up PC casing!!!!
This is how the casing now looks when the PC is on!
Look at that light is makes on the wall when the lights are turned off!!! The only thing that has a problem with this fan is that it has a damn huge noise!! I have to figure a way to reduce that!
1 comments:
Anonymous Says: August 9, 2009 at 9:50 PM

i like the fan... :P