Posted On 2009-01-31 at 10:38 PM by Tharaka Devinda
I was a able to finish half life 2 Episode 2 yesterday. It was a good but short game. It is the case with these episodes. They are very short, unlike the Half life 1 and 2 versions.

I got some screen-shots and some of them were accidental. Here are the best of them...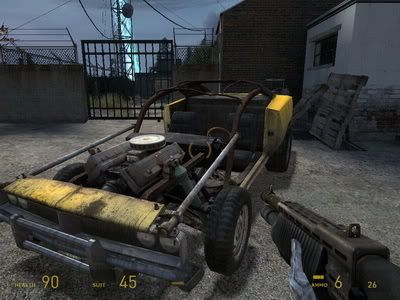 This is the car that is used from the middle of the game to the end. Pretty rugged but it serves the purpose. :)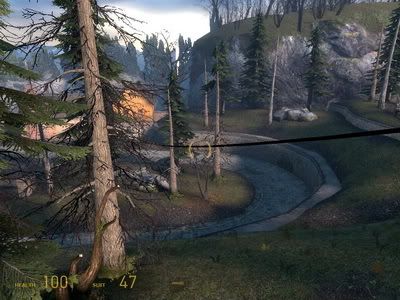 This shows another outside view of the game.


The plan of the scientists from black mesa is to send a rocket to the atmospheric level and then transmit a frequency to disable the portal that was made after the collapse of the tower.
I'm supposed to protect the rocket before it is ready to launch from and army of striders...
This is an accidental screenshot of Dr. Freeman holding a Madison's bomb (which is used to destroy the striders). I have pressed F5 (screenshot key) when pressing F6(Quicksave)




This is a screenie of the launch. The rocket can be seen amidst the clouds of smoke. I didn't think I'd be able to get this shot, because of the speed of the rocket. But looks like I got it after all.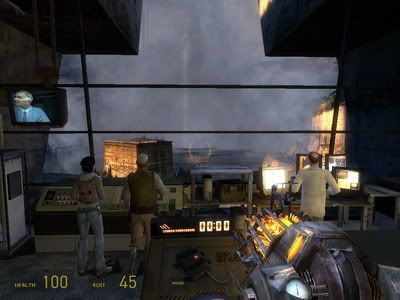 The portal starts to die after the transmission...



When it all ends, a couple of big bugs (I think they're called instructors) attack the white forest base, and gets hold of Eli, Alice and Gordon. I'm not going to tell the story, you want to know what happens afterward, you play the game ;)

Posted On 2009-01-27 at 10:47 PM by Tharaka Devinda
I'm talking about the age old game Half Life. It started in 1998 as a huge FPS. I say it was huge because of two things. The game was very long and it won the hearts of many and was very popular. I played it first in sometime like 1999 and I was only able to finish it when I got my own PC in 2000. It took me almost a month to do it.

The story starts with Dr. Gordon Freeman, a physics doc, who participates in testing an impure radioactive material. That causes the whole area, which is the Black Mesa compound to be connected with another realm...Ah!! cut the crap!! You know the story!! If you haven't played this game, you haven't played games!!!!!

I'm now into Half Life 2 Episode 2. A mere 11 Years have passed and the story still runs...(actually the game released long ago! I got it just now :D )

It has a lot of improvements in characters as well as gameplay. Unlike most other games which ask for all the resources of a PC, Half life has always been a mild, processor friendly game. It uses a stage based game map which loads from time to time to free up the area you're not looking at and is unwanted. (Compare that with the CRY engine)

The overall story is yet to be known and there is another episode coming up (Episode 3) which will finish the story that ran more than 10 Years. Its fun playing the game, you should try it if you havent. I'll give 10/10 for this game.

Here are some screenshots..



The Vortex after the citadel falls



Alyx After the robot's attack. The alien actually is coming to help her.



Remember this face? Its the third time he talks to us in the whole game series...And the longest I guess :D



This is a view of the outside world...For those who only know HL1, yes, there is an outside world in HL2 ;)

Great Game!!!


Posted On 2009-01-22 at 9:26 PM by Tharaka Devinda
Seven Ground divisions, Eight Battlefronts, one enemy..the outcome is clear. We will be able to clear up the remaining area of Mulativu in the near future.

Looking back at the Wanni operation, it seems like a dream come true. And to remind the path 58th took...WoW, those must be the people who trekked the most distance in the ARMY.

The NAVY being the eighth front, has deployed four layers of brave hands to protect the sea-route to the un-captured area. Its impossibility itself to penetrate its defenses. Specially with our own home made creation, the RABS...(Love those guys, fast agile and right to the spot.)

Anyway, defence.lk is doing a great job, even with a colorful display saying 393km2 left....

The moral of the countrymen as well as soldiers is very high at this stage, this is a definete fact for the victories that we gained in the past days...

May all who gave their lives protecting motherland attain nibbana!!! Your sacrifice to this nation is NOT in vain..
Posted On 2009-01-19 at 9:20 PM by Tharaka Devinda
This is part of the wiring Chamil and I had to deal with today. We had to interchange 3 wires to get it right!

This is the very reason me and my team of Trainees developed a software called TRACE. You just cant tell what wire goes where when the network grows. I wonder how these people do that. I'm pretty sure that they're not using the software I gave them. Who cares? I'm not the one whos effected. I get these after a long time....


Posted On 2009-01-14 at 12:08 AM by Tharaka Devinda
I did it this time. It went smoothly and I was able to do all the post installation tests to verify the new system worked. That was a relief.

Posted On 2009-01-13 at 7:31 PM by Tharaka Devinda
Yes, it all falls onto me. I'm responsible for changing an IOS on a Cisco 5400. This time, to add to the fun, the node is live!!! Yes, Hot Damn Live.!!!

I'll have to pull this one right.! If all goes well, I'll be home for the well awaited mid-week holiday, but if it slips, more than one will loose their sleep.

Hope the router behaves well. I only have to do about 3,4 commands, and I can do it in the office. But to be on the safe side, I'll go to KOT.!!! At least i'd be able to turn the damn switch off!!
Posted On 2009-01-08 at 9:38 PM by Tharaka Devinda
Win 7 has been so far so good. I didn't get much errors or bugs and the OS is fast even when its on the slower of my two disks. I'm still waiting for a better version from Microsoft to install this as the main OS. Looks like a good beta version will be on the market soon ;)

Here's a screenie of the Task Manager. It runs at 700MB. As I remember, Vista took about 900MB at idle time. But it gave the space away very fast if an application needed it.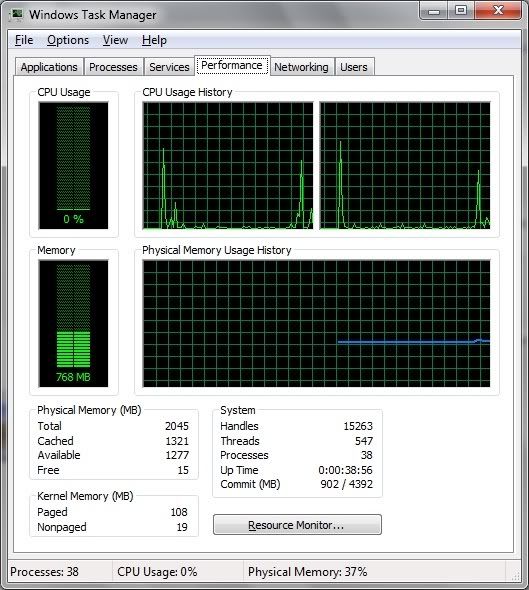 The search function also seems to have improved. It can be somewhat near the Spotlight of OS-X. I still don't know whether they got the new features out from OS-X Snow Leopard. But the remnants of Leopard is still here. The Right hand bottom square is for SHOW DESKTOP, which is something like "Active Corners" of OS-X.

The lighting up of the task bar's items when they are rolled over with the mouse is also a cool effect. And the "Orb" also glows, when rolled over. I'll be testing this further more. For those who are interested in my System config, its on one of the OS-X posts.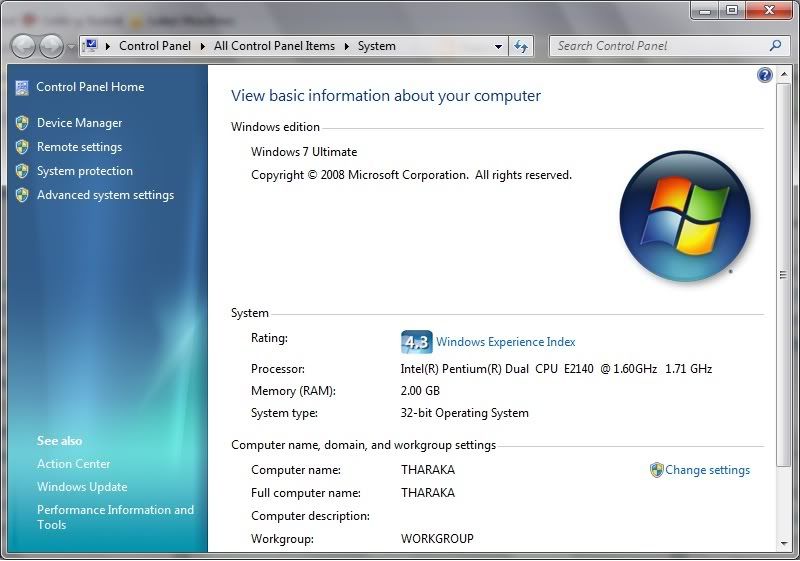 Posted On 2009-01-07 at 10:32 PM by Tharaka Devinda
Installed Windows 7 after a week of downloading it. Most of the programs run on it.

And the look and feel, its gorgeous.
I like the way they have arranged it on the taskbar. A bit un-easy at first, but I think it speeds stuff up when you get used to it. (Still less than an hour, I'm getting used to it ;) )
Anyway, I still think there are a lot of bugs to be straightened up and the system should be made more robust. But it didn't crash yet :D.
Here are some screenies. Look at MS Paint's new look!!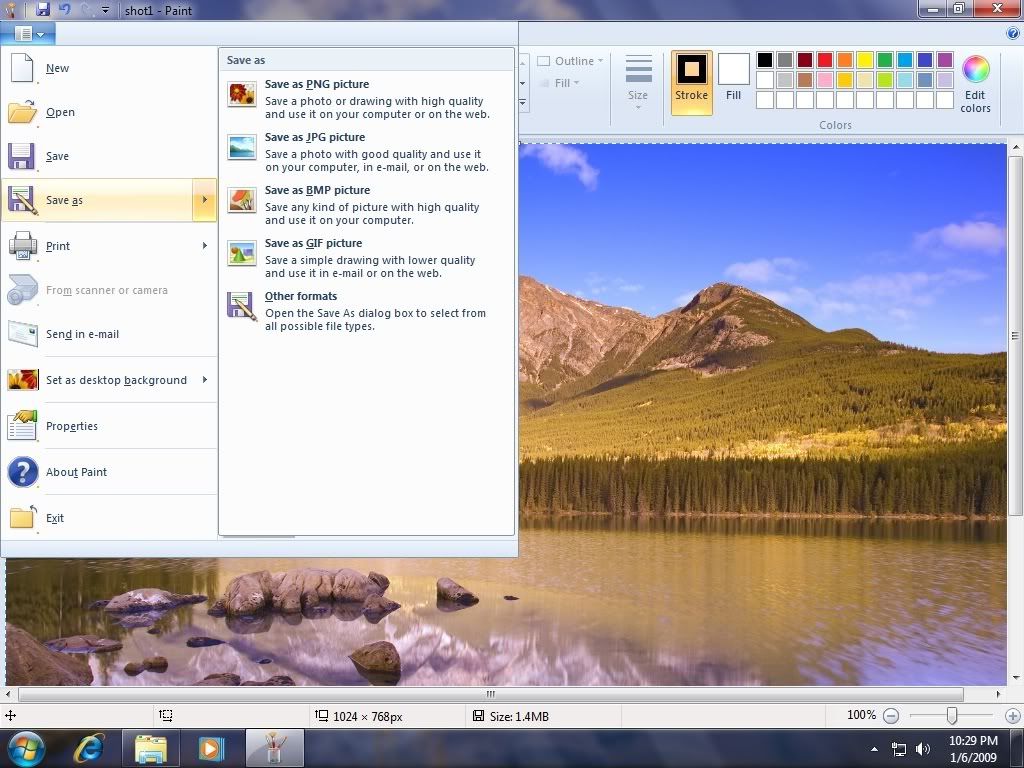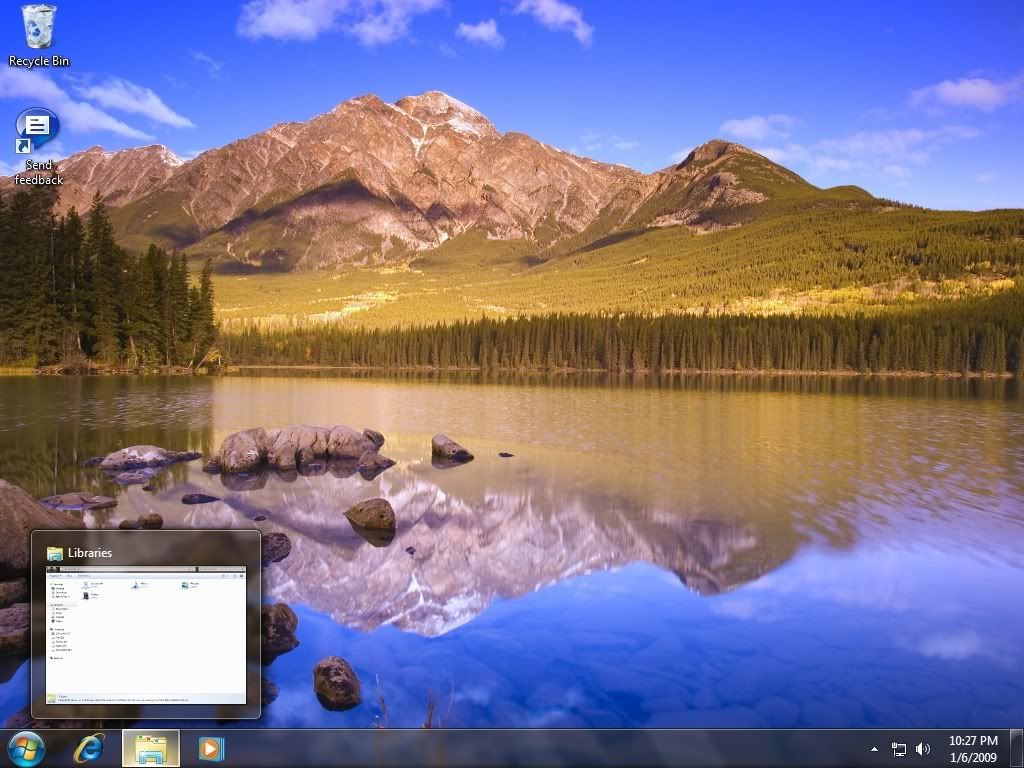 Posted On 2009-01-02 at 9:40 PM by Tharaka Devinda
Its with great pleasure that I write here that today, our forces have liberated the so called "Political" centre of the LTTE terrorists. The valiant 57th and 58th (Task Force 1 and our favortite ;) ) squads have been able to capture the Kilinochchi town after a fierce battle that lasted for several hours.

We awaited the NEWS and reports of all defence sources we know from the morning. The whole country was taken with pride and joy. For the first time in history, the www.defence.lk got stuck because of the massive traffic towards it, trying to get the news.

The coward terrorists again tried to take our victory back by blasting a human bomb in Colombo. One brave SLAF personnel gave his life protecting the base from being infiltrated. It is clear that the brains and mindset of those suicide bombers has been twisted so much by the LTTE, that they loose the ability of rational thinking. How could a single stupid, untrained, cowardly idiot take down an Air force base? Its a joke.!

Defence.lk has the title "Kilinochchi liberated- Countdown to extinction begins for LTTE" flying with full colours.

For your reference, I will include the map from the site. This is the current situation. We WILL take down the terrorists. Each soldier is determined and all countryman are backing them. Victory is not far from reach !!

This is the current situation. The area in green that I put, is the area we liberated from the 18th of September..
The area in red is still infected with the monkey troops of Prabha (the big pig)





References: defence.lk