Posted On 2008-05-04 at 8:09 PM by Tharaka Devinda
Well, since my Mobo supports a 6 way speaker system and I only have 2, I decided to plug in a new pair of speakers to the PC before several months. I re-engineered the speakers by removing the connection wires and bought new two core wires to carry the sound from the rear of the PC to the rear of the room.

Well, I had to work with all my might and soldering abilities to make this happen. Finally I had system correct. But there were issues.

After about 5,6 days the main speaker (Left, with the controls on) went dead. It had some problems but I could not figure out what actually was causing it. The other speaker was also connected to it with the wire that came with it, so it meant that I did not have a correct positioning, it just had to be longer.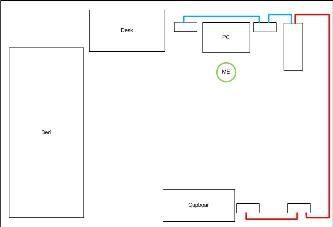 This is how it looked before

I planned to make this right today, and removed the speakers from where they are and started the removing the wires. Boy it was hard. The soldering Iron wont heat up at first, and then there was not a good stable place for me to place the stuff. But Finally, removed all the needed wires and connected the new ones. Phew.
Then I realized after soldering, the main speaker was not giving sound unless the PCB was bent to a certain side. Well, what to do. I didn't have the time or the need to see why. I did what needed to be done. I put in a piece of crumpled paper inside to hold the pcb. That was cheating or what? well, it sure did the job. The cramping inside the thing helped holding the PCB in the right position like a charm.

And then I put up a new nail in the position where the extended speaker should be. Tried hammering the wall and a few nails bent, finally got a Concrete-Nail through. And when I tried to put the speaker up, the hole wasn't big enough to make way for the holder. I had to burn the hole with the soldering iron, again doing some non-professional work.

The whole drill was to extend this damn thing for only about a foot and a half !!! Its something. :D

And this is what looks like now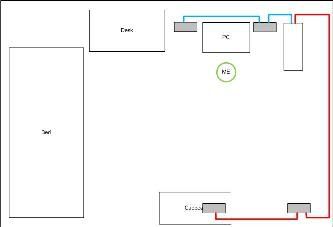 Although both the speakers work, the sound is still poor since the speakers are not of good quality, but hey, once one of my lecturers told, "No matter how harsh sound it produces, its your sound". And I'm 100% compliant with that. :)
0 comments: