Posted On 2008-04-12 at 9:50 PM by Tharaka Devinda
Well, an interview is something people are nervous about, but look at these photos, you'll think twice about them. This is the day that we had the interview at the Millennium IT in Malabe, Sri Lanka.

They had the interview the whole day, two phases. The first phase will decide whether we go to the second. It was a really friendly environment. The HR of Millennium IT is the best I've seen so far in an office.

They allowed us to use any of the facilities at the premises in that day. Not to mention that they provided us with all refreshments including lunch.

I had the best interview my whole life there. Since I'm a t-shirt fan, my dream was to wear one to office (Whenever I go to work in the future) and to wear one to an interview. The second one became true. The challenge was that I was the only one wearing one. My (stupid) batch mates were wearing shirts despite the MIT people told that it an activity day.

Luckily, I got thru both phases. No mention about the t-shirt. Well, I didn't get the third call though. But it was a dream come true and I thank Millennium IT for it.

Here are some of the photos that we took there.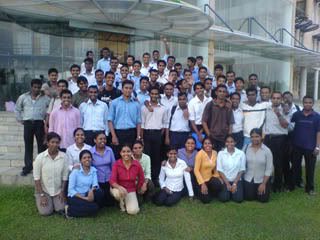 This is a large part of the batch. Rangana is also wearing the T shirt he brought. The devil, he didn't wear it as agreed.
So we also got the chance to get in the pool. Here are some photos of us in the pool, and some playing out.

Tharu.

0 comments: