Posted On 2008-04-29 at 7:24 PM by Tharaka Devinda
Hooraayy....Recovered this out of Flock. Guess it didn't eat the post....:D


Got the article from xbitlabs.com. AMD is producing the new array of Tri-Core processors. Cool, but from the tests conducted at xbitlabs, its not that cool after all.
Firstly, its the first processor to hold a number of cores that is not a power of 2. (AFAIK) So it makes the X3 processors unique.
But setting the record for making it doesn't always mean success.
Most of my friend that use AMD open up their PC casing and put a fan in front of it since here in SL, its not that cheap to buy heat dissipaters that are of high quality. AMD still haven't dealt with the issue. It consumes more power than it's counterparts, the Core 2 Duo's.

Wonder why someone will go for and AMD, but yes, It is a very cheap answer for a reasonable system.

Read this yourself. Don't take my word for it, coz I've been anti AMD even since before I bought my PC. :D

http://xbitlabs.com/articles/cpu/display/phenom-x3-8750.html




Posted On at 7:23 PM by Tharaka Devinda
This time it was with Dialog Broadband. Well it was not a formal interview, it was just a chat with the VoIP manager and the engineer in charge. The two people we worked with when we were having our industrial training there.
They said they dont need to interview us, and offered two vacancies from VoIP and Metro Ethernet. Sankha, Hasitha and me were there, since Janaka took the job with Zone 24x7 and Kasun (Printa) will go to Canada after the graduation.

Sankha took the Metro Ethernet job. Me and Hasith both liked the VoIP, so they told us to choose ourselves and tell them before this Friday. If we don't they might say who will come.
We will check with Dialog Telekom and if Hasitha gets the job there, I will be at VoIP. Well, have to consult ma cousins about this anyway...Since I have applied for another position, again at Dialog, for a Core Network Planning.

Jobs Jobs jobs....These might even drive us crazy one day. :D

Posted On at 12:06 AM by Tharaka Devinda
Just posted a tech thing about AMD's new X3 processors and Flock just ate my post. Its not there :(

Posted On 2008-04-28 at 10:55 PM by Tharaka Devinda
This project period is a real stress. We just have 3 weeks to the deadline and the unit that I'm supposed to do isn't finished yet. And it even has problems in the prototype stage.
Really hope that I will be able to debug the issues when the final PCB is made. Otherwise I'm as good as dead.


Posted On 2008-04-27 at 11:09 AM by Tharaka Devinda
This is great.
I got flock yesterday. This is one great browser. The add-ons are really good.
If you are using Firefox, try this too. Its great. All the extensions built into one.
If you are using IE, well, what to say. You're an uber n00b!

Posted On 2008-04-26 at 11:38 PM by Tharaka Devinda
We were there at the university when it happened. The LTTE terrorists blasted a bus full of people in Piliyandala at about 6.45 pm on the 25th. We were supposed to take the equipment needed for a car test to Anusha's for the final year project and Damitha and me ended up giving the stuff to Anusha to carry home and rushing home ourselves. Luckily Anusha had the car. So I got on three Route 255 s and went home. Damitha also managed to go home at about 8.30 the same time as I was there.

Last few days the bloodthirsty terrorists led by their leader have suffered heavy damage from our ARMY and the Air Force. So what they do instead of fighting the army is to kill innocent people. I can't figure out why some countries such as Canada still help these monsters. Suppose they would have understood the situation if they themselves had a war.

Its with great demise that I type that we lost about 30 people in that blast. And adding to that, around 80 heroic soldiers gave their lives to save this land, eventually, to save us. They did not die running away, they gave their life facing the enemy like real Sinhalese. I guess even in history, even a Spartan would not show such bravery. It is true that in throughout the history, it is told that Sinhalese die facing the enemy, there are no bloodstains on their back.

They will be remembered. For all time to come. Such is the case with every soldier, who fights for his motherland.
Posted On 2008-04-19 at 3:14 PM by Tharaka Devinda
This was about a week ago. Just got the photos out of ma mobile.

Me and ma cousins got some time to play at my aunt's house at Piliyandala. It was no huge match, but we made good cricket. Made our own bat and the wicket out of coconut branches.

Lahiru is wearing the green T and chamidu is the one that stands on the white cement tiles. He's doing his magic balling spell in the match. LoL

Most of the time it was looking out for the lost ball. No keepers, so it goes all the way to the backyard. Good thing the house had something like this area for us to play.

The dog (You could see it's shed near the yellow door) tried to eat the ball several times but Lahiru managed to trick it not to.

Funny I'm not in the pics. Thats coz I took them :D
Posted On at 2:28 PM by Tharaka Devinda
Its been a lazy day today. I'm home alone and Nadeera's out for classes. Good thing she will come in the evening.

Anusha has the Rabbitcore and I have some pending programs to test. Hope he puts that thing together soon. I finished some of the data reception parts of the program for the project, well, hope they are bug-free. Otherwise I'd have to spend more time debugging rather than coding. LoL
Posted On 2008-04-17 at 10:14 PM by Tharaka Devinda
I had to deal with some abnormal activities today in the uProcessor that I work with. We use a Rabbitcore 2000 for the processing in one of the units in our project and damn its giving me hell.

One of the C code that I wrote works fine with the RF module while the other does not. :( The biggest problem is that I can't find any difference between the two codes. :P

So at last I had to copy the working part of the code in to the newer program I wrote. Works still, but I can't predict when this thing will go haywire again. I just hope these embedded monsters work at the presentation.
Posted On 2008-04-16 at 10:06 AM by Tharaka Devinda
End of the holiday season and work starts today. We have to finish our project by May 12th. So work work work and do some more work when you're free. Thats the motto these days.
Posted On 2008-04-15 at 12:25 AM by Tharaka Devinda
My girlfriend's mom took ill at about 9 pm. I just came home from the hospital after taking her back home after treatment. She had a breathing problem, but we thought it was rather really bad. So we took her to the hospital. Good for us, it was not that bad.

The whole thing lasted 3 hours and we were in and out of the hospital and were home at sharp 12 midnight. I called both my help parties, Damitha and Aravinda aiya, both having connections to the medical field for help. Luckily we did not need that much help. Phew....

It's so amazing how time works, the incident was limited to 3 hours on the decisions that we took in mere minutes. Was it taken wrong, we would still be in the hospital!

This will be a day to remember...
Posted On 2008-04-13 at 9:34 PM by Tharaka Devinda
Today is the Sinhala and Hindu New Year. So I did the traditional things as much as I can. Part of the common things that we do is the "Ganu-Denu" (Interchange of assets) so typically its money that we give and take. Since I'm the kid, I get the profit. :) This year it went up to about 1200 Rupees.

I went to my girl's place as well. I was supposed to be the one who comes first as a visitor. It is common belief that if the first person that comes after the New Year celebrations is a good person, the year will be good. Which is a big deal to be the first, but it'd be my head if something goes wrong. :D

I wish that this year will be a very good year to all of us, and to you who reads it......
Posted On 2008-04-12 at 9:50 PM by Tharaka Devinda
Well, an interview is something people are nervous about, but look at these photos, you'll think twice about them. This is the day that we had the interview at the Millennium IT in Malabe, Sri Lanka.

They had the interview the whole day, two phases. The first phase will decide whether we go to the second. It was a really friendly environment. The HR of Millennium IT is the best I've seen so far in an office.

They allowed us to use any of the facilities at the premises in that day. Not to mention that they provided us with all refreshments including lunch.

I had the best interview my whole life there. Since I'm a t-shirt fan, my dream was to wear one to office (Whenever I go to work in the future) and to wear one to an interview. The second one became true. The challenge was that I was the only one wearing one. My (stupid) batch mates were wearing shirts despite the MIT people told that it an activity day.

Luckily, I got thru both phases. No mention about the t-shirt. Well, I didn't get the third call though. But it was a dream come true and I thank Millennium IT for it.

Here are some of the photos that we took there.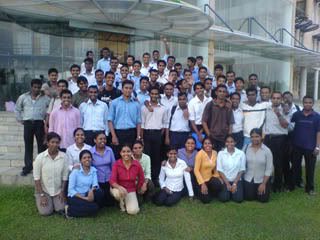 This is a large part of the batch. Rangana is also wearing the T shirt he brought. The devil, he didn't wear it as agreed.
So we also got the chance to get in the pool. Here are some photos of us in the pool, and some playing out.

Tharu.

Posted On at 11:10 AM by Tharaka Devinda
Darn, I forgot to mention this. I am a real good fan of Ogame !!

Its an online game that has hundreds of players around the world playing at once to compete at each other in a game based on space.

Check it out. Its fun but my advice is, you WILL get addicted to it.
Posted On at 11:06 AM by Tharaka Devinda
Well, since this is my first organized post, I'd start by introducing myself.

I'm Tharaka and I live in Sri Lanka. A small island in the Indian ocean. Many of you might have heard about it since it has a history that dates back to kings ruled the country before 10,000 years.

I am currently in the process of graduation. I am a final (4th) year student of the University of Moratuwa and am following a degree of Electronic and Telecommunication Engineering. The final phase that I am supposed to do is the project and I and three other people including Anusha (visit anusha's blog) are in the process of finishing the project. Its a railway safety system that we are making to avoid accidents happening in railway crossings. I'll post the updates of the project here when I get a chance.

In my family I am the only child and both my parents are still doing their jobs. My mother works at an insurance company while my father is a government officer. Well I also happen to have a girlfriend that is somewhat in my field too. But she is a civil engineering student and is still studying in a Technical institute called the Institute of Engineering Technology.

Currently I am also on the lookout for a job for myself after the graduation. Well, there are quite a number of opportunities that I applied for and well, I'm waiting for those guys to respond. J

The Sinhala and Hindu new year is only a day ahead and I can now hear my mom cooking the sweets (can't smell them yet, otherwise I won't be typing here :D) We celebrate the new year now because our country is an agricultural one and this is the period where the crop comes out after the harvesting. Coupled with the fact that our ancestors had a thorough knowledge on astronomy, we observe the position of the sun that moves from one constellation to another. The exact time that happens is the exact time we celebrate. All the country does it at Once.

Well that's enough for now, I'll be posting a lot in the future if I get the time.